We can see more and more brands adopting the Web 2.0 enhancement. It's a new paradigme of customer relationship, client more empowered in the way to drive their relationship with the brand

they wish to support or to blame...
You

saw car manufacturers, bankers, food and health care providers, any industrial sector is impacted. And what is at stake: a high disruptive

branding enhancement. The power of the brand

that corporations have been investing into for decades are challenged... New visions and positionning are required now otherwise the relationship is at risks as the competition has move out of the traditionnal marketing arena...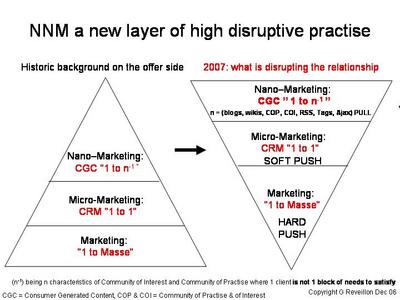 Last week was in France the launch of a new corporate blog

as the Kangoo

brand

is fidding a new springboard of deployment through www.kangoomania.com and you

can feel the NNW, the vibrations of hundred customers so proud to enhance their car of choice. Their new lifestyle through video and pictures offered to ten of thousand visitors a day !
Mots-clés :
NNM

,
Disruptive

,
Brand

,
Kangoo

,
Web 2.0