We just got the experience of the employee desk in 5 years time... it's almost a trip in the future that we just did. It's clearly extraordinary in productivity gains for any team. We start the experience by mouving into a 3D environment with at the backend the 3D shape of a molecule that any researcher can complete, there's also a 3D plane that you

can move around so easily. This is just cool to be able to do it in a collaborative way i.e. it can be a joint build up process with people 6000 km appart !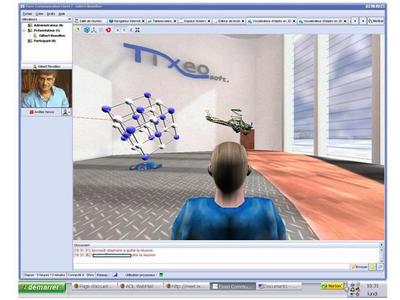 Then we kept the sharing process moving ahead by using internet explorer (but firefox could have done the same) and managed to work on my blog

(this one NNM) and it was possible to create and edite realtime

an article as you

can recognise our blog

nano-marketing

... everything is in 3D and without any complexe process... you

just need to decide what is open to share in your computer office... a real child game to share and colloborate in a project mode !
Finally, you

can recognise the window with the webcam being active with Steph and Gil on the left side, and if need be you

can also activate the IM at the bottom of the screen... nano-publishing

is getting extended by mashing up any application on your desk !
Just great !
Gil
Mots-clés :
3D

,
realtime

,
Tixeo

,
blogging