I meet people at Microsoft

, Google

, IBM

, Accenture

, Intel

… just to quote the very biggest. All these companies now agree that Virtual Worlds

are shaping the next generation of the Internet and that they will have a very deep impact on society in the next ten years, just like "the Net" did in the last 15 years (roughly from the days of BBSs , AOL and Compuserve to where we are today, with ubiquitous internet and mobile

phones).
Here's another example, from someone who should know, the head of ICANN, and successor of Winton Cerf, one of the many inventors of "the Net" as we know it today: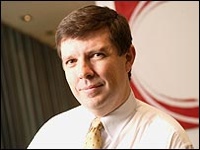 http://www.techcrunch.com/2007/09/08/virtual-worlds-are-the-future-of-global-commerce-icann-ceo/
What I find most fascinating though is the comments of the blog

post above - from a technically savvy audience, yet one that seems so incredibly afraid and reluctant to embrace change. Why is that ? What are those people finding so threatening ?

 As we start to provide useful services in Virtual Worlds

, and interact meaningfully with our consistuencies, how do we reach out to those who are afraid?

Mots-clés :
Virtual Worlds

,
Fear

,
ICANN

,
Towney